If you need new tires for your vehicle in Branford, make Brandfon Honda your only stop
Purchase a set of 4 tires, and take $10 off each tire!
 

Avoid hassles with your local tire store! Let our Honda trained professionals Take care of all your tire needs!!


What Brandfon Honda
service
and parts departments offers!
Over 200 tires in stock
Free tire rotations with all services
1 year Pro Rated Road Hazard warranty on all our tires-Free!
No Hidden Charges - Free tire disposal, Free wheel weights & Free Valve stems!

We WILL match or beat any competitor's price.
Call us today or email us for a quote for your trouble free tire purchases!!
General Tire Information:How to read your tire size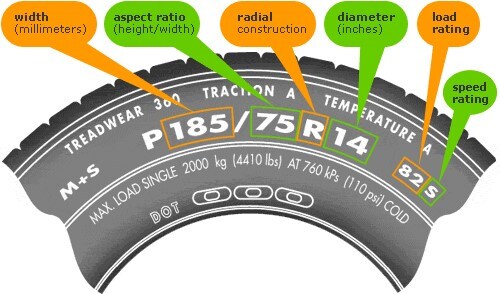 Speed Ratings:
Speed ratings are found right on the sidewall of the tire. It will be a single letter after the tire size. Speed ratings only apply to the tire and NOT to the vehicle.
Q  - up to 100 mph
R  - up to 106 mph
S   - up to 112 mph
U   - up to 124 mph
H   - up to 130 mph
V    - up to 149 mph
W   - up to 168 mph
Y     - up to 186 mph
Z     - 149 mph and over
(Speed ratings only apply to tires that have not been damaged, altered, or repaired)

Top 5 Safety Tips for Happy Tires


1)    Inspect your tires for bulges, uneven tread wear, or dry rot cracking regularly
2)    Check tire pressures and adjust them at least once a month
3)    Rotate and balance tires every 7,500 miles
4)    Perform recommended wheel alignment check at least once a year- Free with all our services
5)    Install tires in matched pairs or complete set of four (AWD)